Central High School, Phoenix, AZ

Welcome to the official website of Central High, Phoenix, Arizona, Class of '65.
We now have over 300 online members from our graduating class. If you're a classmate and have not yet joined, just click on How to Join this Website at the top of the column on the left side of this page. If you're already a member, use the site to keep updated and stay in touch with fellow classmates. Don't forget to periodically update your own profile with your news and photos. Also, you can now upload your 2015 reunion photos via the Reunion 2015 Photos link in the column on the left.
---
---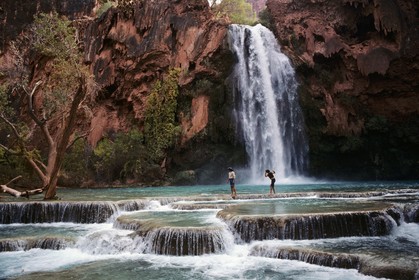 Filling the Fifty Years
SIMPLE SOLUTIONS FOR POSTING PICS
Fifty years is a lot to fill in! Yet when we meet old friends, whether at a reunion or on the Central65 webpage, that's what we want to know. "So what have you been up to since Central High?" There simply isn't enough time to talk with everyone, and if you weren't able to make a reunion, then how to connect? Well, this website has been a great option. But unless you want to write a 20 page essay, then photos are the best way to show those years.
Yet, only half of the folks with profiles on Central65 have posted pictures! Maybe it's not your style (See Introverts Unite! below). But if you have some 50 years on film, why not? It's really pretty easy on today's website. You can post a few shots on The Chatter, or keep the pics more permanently on your profile photo collection. Use the "Edit Profile" button on the sidebar, and add photos into the upper right corner. More "how-to" info can be found at Personal Profile Changes.
An easy way to add interest to your photos, or post several in a smaller space, is to make a photo collage.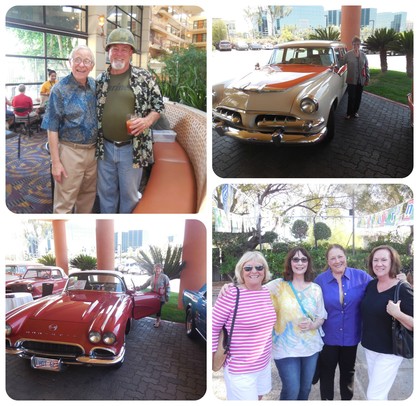 This can be done on either your desktop, with free applications such as PicMonkey, seen above,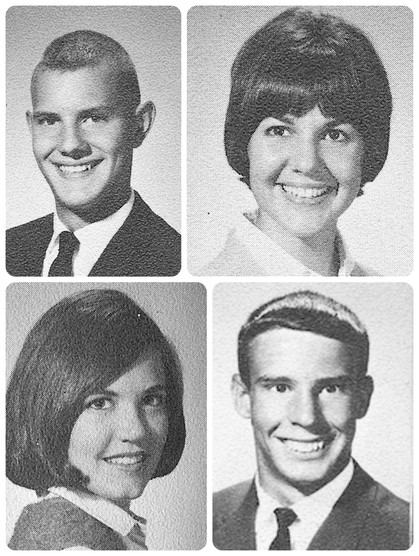 or on your iPad / tablet using an app such as PicCollage.
They are incredibly easy to use. (The collage from the 2015 Reunion took about 3 minutes to make – once decided on the pictures.) All offer free basic versions, which is all most folks need. More advanced versions can be purchased online with multiple templates, themes, printing options, or tools all the way up to a poor-man's version of Photo Shop.
Whatever you try – simply adding photos with a click, or playing with different photo apps – put some pictures from the last 50 years of your family, your travels, or you on Central65.net. Your fellow 'Cats would love to see your smiling face.
---
ANNOUNCEMENTS
•

MEMORIES OF 2016

Isn't it crazy we can look back a year ago
and realize how much has changed?

The amount of people that have left your life, or entered and stayed? The memories you won't forget and the moments you wish you did. Everything. It's crazy how much can happen in just one year.

So tell us, how did 2016 go for you? Changes? Love? Family? Adventure?

Write a few memories on your profile.
Add some pictures to your profile that capture your year.
Or just paste them onto "What's New: The Chatter."

Do it now. It will be better coming from you than somebody else adding as a comment when you're gone. Heck, they might not get it right!

---

•

---

---

•

PLEASE KEEP YOUR EMAIL ADDRESS UP-TO-DATE!

Important! If your email address becomes inactive, this site continues to receive error messages each time any communication generates from Central65 to your email address, requiring Administrative time to correct/clear. Faulty email addresses also keep you out of the loop from updates on this website, memos sent to all 'Cats or attempts from your fellow classmates to reach you.

Please maintain active email addresses by clicking on EDIT CONTACT INFO. Make necessary changes and click on SAVE CHANGES. If you have difficulty changing your email address, send a message to CONTACT US.

Thanks!

---

•

If you find you have any new pics
upload your photos from the 2015 reunion to this website. Click here.

For a recap of the 50th Reunion and a list of attendees (who were pre-registered) CLICK HERE.

•

---

Do large reunions break your anxiety meter?

Not looking forward to 2020? Here's your answer! Planning committee, please note. Set aside space for:

---

•

Missing Bobcats

Many of our classmates have not yet been located. This not only prevents them from keeping up to date with Class of 65 happenings (like the 50th Reunion) but it is also a lost opportunity for you keeping in touch with each other. Can you help us find someone? Please click here – Missing Bobcats – to learn how you can be a part of our search team.

•

•

---

Did you know...???

We led the way when Central High School Class of 1965 started its webpage in 2010. There are now 29 High School Reunion websites in Phoenix that use ClassCreator, five from Central High School alone: 1965, 1972, 1979, 1980, 1998!

•

Central65 Website
created Feb 20, 2010

Visits to Date
100,081